17 March, 2023
Can you extend your kitchen with a conservatory?
Adding a conservatory to the side of your kitchen, or extending your kitchen with the use of a conservatory are popular home renovation projects that many homeowners across the UK undertake. Here at Oakley Green, we are proud to offer our customers the opportunity to expand their living space with our newly renovated conservatories, which can provide a small kitchen with more space at a reasonable cost.
When it comes to kitchen extension ideas, using a conservatory to add extra space for a dining table or even a dedicated dining area is a clever one. But, if you are considering a new kitchen extension through the use of a conservatory, then you may have many questions about if and how it is feasible to add a kitchen conservatory to your home. Well, worry not, as we have all the answers you need to make an informed decision. Let's begin!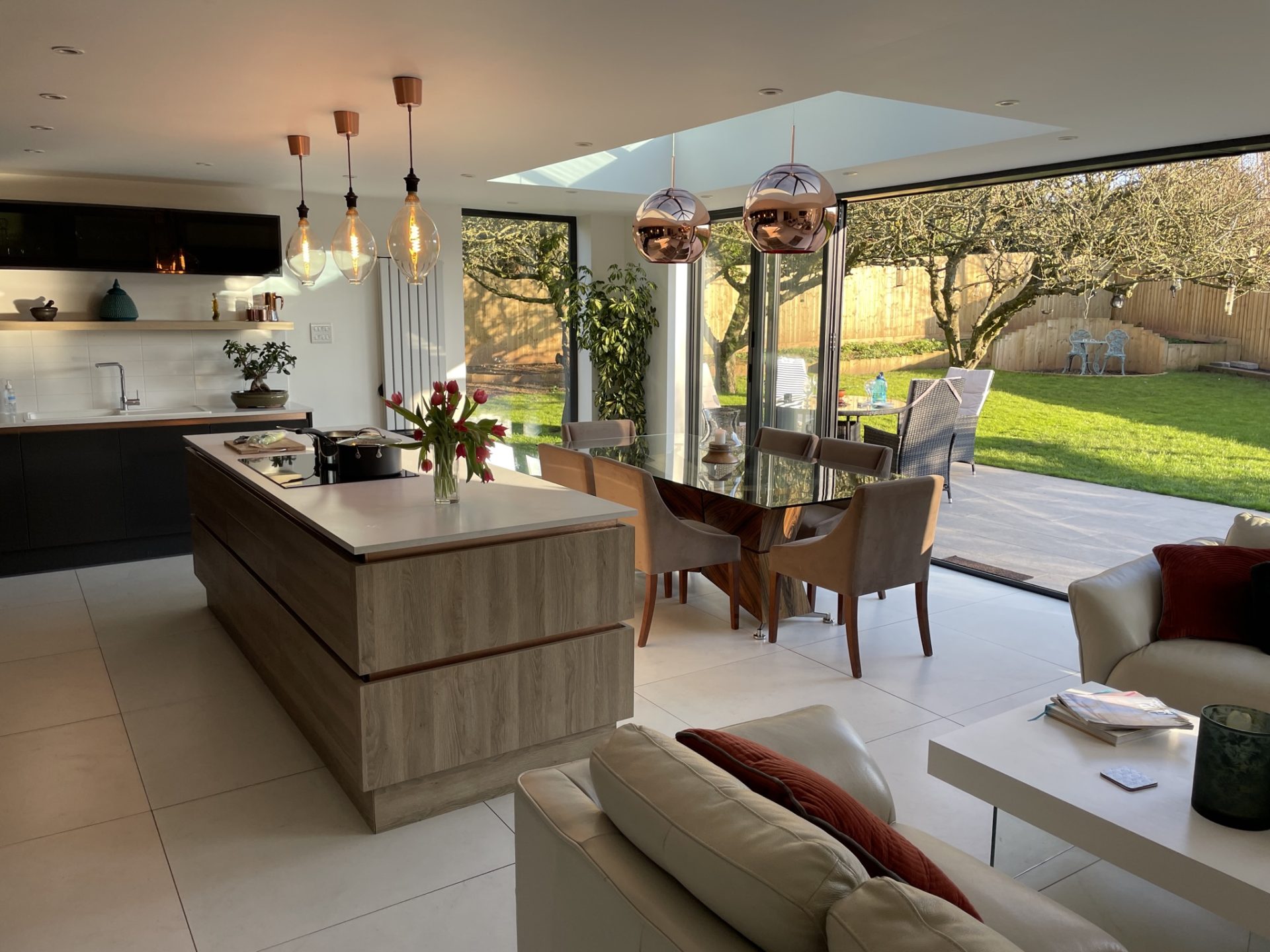 Do you need a door between the kitchen and the conservatory?
The need for a door between your kitchen and a conservatory is dependent on how you want to use the conservatory space. If you intend to use the conservatory as a distinct area for dining, a kids' playroom, or just a separate function room altogether, then adding a door to divide the two areas would be suitable.
However, if you are planning to create an open-plan space by extending the kitchen or dining room into the conservatory, then doors might appear out of place and disrupt the flow of the layout.
If you want to integrate the conservatory into your home without doors, it's crucial to ensure that the new conservatory is constructed with the appropriate thermal insulation that will keep your home from getting too hot or too cold in the varying seasons. To achieve this, you will need to carefully consider the materials used in the structure, including the windows, glass panels, flooring and ceiling, for example.
Keep in mind that if you are removing doors that already exist between your home and conservatory, then you will likely need to have this approved by your local Building Regulations.
Can I renovate an existing conservatory into part of the kitchen or does it need to be a new structure?
If your older conservatory has seen better days, and you are considering transforming it into a kitchen extension, then you're in luck – yes, it is certainly possible to renovate an old conservatory and is a great way to get the kitchen design or that kitchen island you've always dreamt of at an affordable cost.
At Oakley Green, we specialise in both replacing and installing kitchen conservatories, so we are always here to help no matter what you want to achieve.
We can breathe life into your old conservatory by replacing the structure and glass. One of the most popular reasons we replace conservatories is to create beautiful kitchen extensions, and we have years of expertise to get the job done at the highest quality. On the other hand, we are also able to build modern kitchen extensions from scratch if you do not already have an existing conservatory.
Do you need permission to extend a kitchen?
Depending on the specifications and the size of your conservatory, you may or may not need planning permission. Unfortunately, carrying out kitchen extensions via a conservatory is not always the quickest approval process due to the rules and regulations that come into play.
It's important to understand that obtaining the necessary permissions can take time, but it is a critical step in ensuring your kitchen extension is safe and compliant with Building Regulations and planning permission. By working with seasoned professionals such as Oakley Green, you can streamline the process to ensure your new structure meets all legal requirements.
You will need to obtain planning permission for your kitchen conservatory if:
The conservatory is higher than 4m (or 3m high if within 2m of a boundary)
The top point of the conservatory is higher than the eaves of the property's roof
The conservatory covers more than half the garden space
If it is a side extension that extends more than half the width of the home
You will need to obtain Building Regulations permission if:
The floor area of the kitchen extension is more than 30m2 (if the conservatory is completely or partly glazed)
A window or door is not present between the main house and the conservatory
The kitchen conservatory is built above more than just ground level
Please always make sure to check with your local authorities for your area's specific requirements.
Can I move my kitchen to another room without planning permission?
If you are considering relocating your kitchen to an entirely different room in your home, it's important to know that you will need to obtain permission from your local Building Regulators. The process of moving your kitchen involves significant modifications to your home's electrical and plumbing systems. This means the safety of the new electrics and gas will need to be installed, approved and certified by professional tradesmen. Once this is done, you will be able to provide the certificates to gain approval from the local authorities.
Is it cheaper to have an extension or a conservatory?
While both options have their advantages and disadvantages, when it comes to kitchen extension cost it is important to consider that a ground floor house extension is generally much more costly than a conservatory, even if they are built at the same size. This is mostly due to the fact that conservatories require less structural support, as well as how they are priced. Extensions tend to be priced based on square footage, whereas conservatories are priced based on materials and construction.
What are the benefits of having kitchen conservatories?
There are many benefits to extending the kitchen area using a conservatory, including:
Cost-effective: It is a more cost-effective way of extending your home rather than a traditional brick extension.
More space: A conservatory kitchen extension can provide extra space, giving you a larger kitchen and more room for storage.
Natural light: Kitchen conservatories allow an abundance of natural light to enter, creating a light, bright and airy atmosphere.
Indoor-outdoor connection: You can enjoy cooking, eating or entertaining whilst connecting with the outdoors, bringing the beauty of nature indoors.
Increased property value: By using a conservatory to extend your kitchen, you will add value to the price of your home.
If you are looking for more information on how we can help with your conservatory kitchen extension in Bristol and beyond, contact us today!
10 year insurance backed guarantee
Fully employed, highly skilled installers
Showroom for you to visit
Tailored solutions to suit your tastes
Small, dedicated team
Book an appointment to see our
showroom
Other New Posts
View some of our other news posts from Oakley Conservtories.
5 Key Questions to Ask When Buying a Conservatory
Can You Make Your Conservatory More Energy Efficient?
Can you put a new roof on an old conservatory?
Glass conservatory roof vs solid conservatory roof? Which is best?
Kitchen Conservatories: A Complete Guide to Building and Designing Your Dream Kitchen Extension
You may also be interested in...
Conservatories
Our range of conservatories can be designed in a variety of styles. From traditional conservatory designs to modern conservatories, we'll create a unique space for your new conservatory.
Doors
With a full design and build service and a huge range of high-performance products, Oakley is the only name you need to bear in mind when thinking of enhancing your home with new doors.
Double Glazed Windows
Our complete design and build service makes it easy for you to enhance your home with new windows.
Extension and Conversions
At Oakley Green, we have been designing and building stunning bespoke home improvements for over 20 years! We've made so many dream homes a reality.
Orangeries
Enhance any home with an elegant, classic look and provide a versatile new living space with an orangery.