2 March, 2023
Glass conservatory roof vs solid conservatory roof? Which is best?
When considering a replacement conservatory roof, the question of whether to choose a tiled or glass roof is often at the forefront of our customers' minds. Of course, both come with their advantages and either will be a huge improvement over an old polycarbonate roof, but one may be more suited to your home's unique needs.
To help you make an informed decision, we've outlined the key features and benefits of adding either our tiled or glass conservatory roofs to your existing conservatory.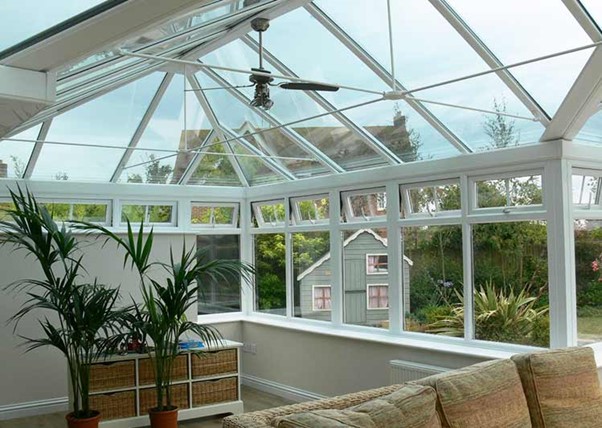 Is glass better for a conservatory roof?
Glass conservatory roofs are a great choice if you are looking for a stylish design whilst ensuring durability and cost. It's important to weigh up the pros and cons before making your decision:
Is a Glass Roof cheaper than tiles? On average, the answer is yes. Glass roofs are more lightweight compared to tiles, therefore requiring less structural support during installation which keeps the cost lower. However, the final price will vary depending on what specifications you pick.
Advantages of a glass conservatory roof:
Maximises natural light: Due to their large glass panels, an abundance of sunlight will beam into your home, creating an airy, bright and welcoming space.
Minimal Upkeep: Equipped with intelligent self-cleaning glass, manual cleaning is little to none.
Attractive Design: Glass conservatory roofs provide a touch of modern elegance and sophistication, making them a central focal point of your home.
Durable: Despite their lightweight construction, our glass conservatory roofs are low maintenance, incredibly robust and highly weather-resistant. They are also designed with modern glass technology that blocks UV rays and prevents glare for added protection and comfort.
Energy Efficient: Our glass roofs boast superior energy efficiency, especially when compared to that of older polycarbonate conservatory roof. Thanks to their double glazing and high-performance glass, your conservatory will remain a comfortable temperature all year round, despite the UK's temperate climate.
Versatile: At Oakley Green, we offer bespoke glass roof solutions that are tailored to fit any space or size conservatory.
Disadvantages of a glass conservatory roof:
Privacy: For homeowners seeking more privacy from nearby neighbours or other close surroundings, a solid conservatory roof replacement may be a better choice compared to a glass roof that can offer limited privacy depending on its location.
Noise: Although the double glazing and heavy-duty materials of glass roofs do help to reduce external noise, the lightweight nature of glass roofs may mean you hear more than you would with a tiled roof.
Is a Tiled Conservatory Roof better?
Tiled conservatory roofs are an ideal roof option for those who value high-performing thermal efficiency, and want your conservatory to seamlessly integrate with your home.
Advantages of a tiled conservatory roof:
Thermal Efficiency: Tiled roofs offer exceptional thermal efficiency due to their weight and durable material, providing insulation to keep heat in during the winter and regulate the temperature to prevent overheating in the summer. Solid conservatory roofs create a cosy and inviting living space and help to reduce energy bills.
Noise reduction: Due to its solid construction, a tiled roof is the best conservatory roof for reducing external noise levels, creating a relaxing space for you to unwind with no disturbances. This is especially beneficial for those living in busier areas.
Privacy: Another benefit for those residing in bustling areas is the fact that solid roof conservatories provide a great amount of privacy.
Versatile: Like glass roofs, tiled roofs are also fairly versatile. We offer customisable designs to suit your unique specifications.
Disadvantages of a tiled conservatory roof:
Reduced natural light: Unlike glass roofs, tiled conservatory roofs do not allow as much natural light to shine into your home. However, we do offer some options which allow you to add some glass panels to the roof, therefore increasing illumination in your home.
If you have further questions or need help with ordering your replacement conservatory roof in Thatcham, Reading or surrounding areas within the South East, please don't hesitate to contact us today!
10 year insurance backed guarantee
Fully employed, highly skilled installers
Showroom for you to visit
Tailored solutions to suit your tastes
Small, dedicated team
Book an appointment to see our
showroom
Other New Posts
View some of our other news posts from Oakley Conservtories.
5 Key Questions to Ask When Buying a Conservatory
Can You Make Your Conservatory More Energy Efficient?
Can you put a new roof on an old conservatory?
Can you extend your kitchen with a conservatory?
Kitchen Conservatories: A Complete Guide to Building and Designing Your Dream Kitchen Extension
You may also be interested in...
Conservatories
Our range of conservatories can be designed in a variety of styles. From traditional conservatory designs to modern conservatories, we'll create a unique space for your new conservatory.
Doors
With a full design and build service and a huge range of high-performance products, Oakley is the only name you need to bear in mind when thinking of enhancing your home with new doors.
Double Glazed Windows
Our complete design and build service makes it easy for you to enhance your home with new windows.
Extension and Conversions
At Oakley Green, we have been designing and building stunning bespoke home improvements for over 20 years! We've made so many dream homes a reality.
Orangeries
Enhance any home with an elegant, classic look and provide a versatile new living space with an orangery.