23 January, 2023
Can You Make Your Conservatory More Energy Efficient?
Many homeowners come to us enquiring about their ageing conservatories that are typically freezing cold in winter and boiling hot during the summer, asking what they can do about it. Energy efficiency, or the lack of it with older conservatories, is often due to outdated materials that make it nearly impossible to keep comfortable temperatures.
Even the most economical conservatory heaters or cooling air conditioners are quick fixes but will never solve the issue. Instead of delaying the dilemma, you need to address your conservatory's energy efficiency concerns head-on, which will be sure to improve you and your family's lifestyle, as well as reduce your home energy bills and even increase your property value too!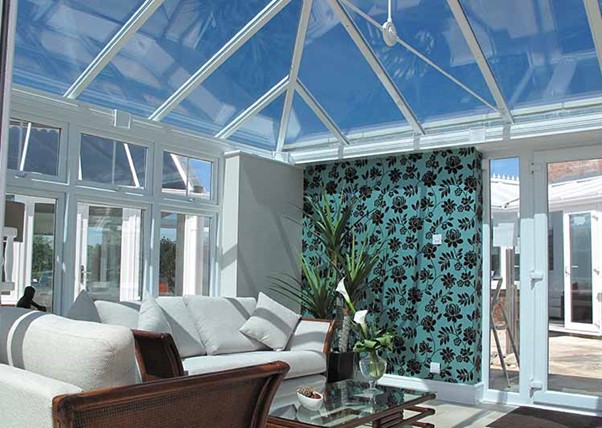 How can I make my conservatory useable all year round?
If you want to focus on a long-term solution to reduce your conservatory's carbon footprint, then let's stop excess household energy usage from your conservatory. We have some failproof ways to make your conservatory more energy efficient, especially as many of us are focusing on rising energy costs this year.
Replacement conservatory roof ideas
Older conservatories lose the ability to retain heat effectively, and many homeowners think it is the end of the entire conservatory structure. However, most conservatories can be retrofitted with a replacement conservatory roof. There are many choices, from a clear glass roof to the ever-popular solid tiled conservatory roof replacements.
Which is the best replacement conservatory roof?
Each type of replacement conservatory roof will suit most homes, but there are specific considerations and roof types which are more suitable than others.
Tiled conservatory roof replacements
Tiled conservatory roof replacements are great for homeowners who want to increase their property value and if you want a conservatory that mimics the permanent look of a home extension.
Homeowners who want the best of both can have glazed panels together with tiles, resolving another common mistaken belief that a tiled conservatory roof will reduce the light in the room.
Benefits of a tiled conservatory roof
Add value to your property
Comfortable and cosy space all year round
Significant improvements to thermal efficiency
It can be formed into any shape or roof style
Outside image of a Tiled conservatory roof
Glass conservatory roof replacements
If you have a restricted budget or your home is limited to 'like-for-like' improvements such as listed buildings, conservation areas, or Article 4 areas. A replacement glass conservatory roof with modern glazing could be the perfect solution.
Benefits of a glass conservatory roof
Thermally efficient for comfortable temperatures all year round
Intelligent Self-cleaning glazed units for balanced light levels and low maintenance
More affordable than building an entirely new conservatory or orangery
Acoustic insulation from the elements for added peace and relaxation
Increased natural light for a brighter interior
Solid conservatory roof replacements
Whatever you want from your conservatory space, our brand-new LivinRoof extension can deliver. It has been engineered to accommodate any shape or style of roof. You can choose how many glazing panels to incorporate and where to position them. This results in a bespoke influx of natural light.
The innovative LivinRoof extension roof features a vaulted ceiling with a pelmet around the perimeter that can include lights and speakers. For a cosier feel, you can opt for a suspended ceiling that maintains the adjoining rooms' height.
Benefits of a solid conservatory roof
Insulated external composite panels and slab insulation for a robust and energy-efficient finish
An urban grey exterior colour, which is complimentary for any housing style
It can be formed into any shape or roof style
Can incorporate the Classic Cornice, a stylish design that hides guttering
Replacement conservatory windows and doors
You can also upgrade your conservatory's windows and doors and keep the existing walls and foundations. Old single glazing loses heat two times faster than standard double glazing, so upgrading to modern double glazing can increase the value of your home by up to 10% due to reduce energy bills for the long term.
Replacing your conservatory's windows and doors with new double-glazed windows and doors, it will make your conservatory far more effective than an old single-glazed conservatory.
Upgrade your conservatory to an orangery
If your conservatory is far beyond repair and you dream of something special for your home, then consider upgrading to an opulent orangery.
The combination of insulating solid brick pillars, insulated internal pelmet and high-performance glazed roof delivers thermal efficiency five times higher than brick. Benefiting from energy ratings that surpass current building regulation standards, our orangery installations can achieve U-values as low as 1.0 W/m2K. An orangery means you can sit back and relax in the safe knowledge that you can achieve perfect home temperatures all year round.
10 year insurance backed guarantee
Fully employed, highly skilled installers
Showroom for you to visit
Tailored solutions to suit your tastes
Small, dedicated team
Book an appointment to see our
showroom
Other New Posts
View some of our other news posts from Oakley Conservtories.
5 Key Questions to Ask When Buying a Conservatory
Can you put a new roof on an old conservatory?
Glass conservatory roof vs solid conservatory roof? Which is best?
Can you extend your kitchen with a conservatory?
Kitchen Conservatories: A Complete Guide to Building and Designing Your Dream Kitchen Extension
You may also be interested in...
Conservatories
Our range of conservatories can be designed in a variety of styles. From traditional conservatory designs to modern conservatories, we'll create a unique space for your new conservatory.
Doors
With a full design and build service and a huge range of high-performance products, Oakley is the only name you need to bear in mind when thinking of enhancing your home with new doors.
Double Glazed Windows
Our complete design and build service makes it easy for you to enhance your home with new windows.
Extension and Conversions
At Oakley Green, we have been designing and building stunning bespoke home improvements for over 20 years! We've made so many dream homes a reality.
Orangeries
Enhance any home with an elegant, classic look and provide a versatile new living space with an orangery.