27 October, 2023
Conservatory vs. Orangery…
So you're considering expanding your home, but which style of expansion is going to win the toss up: conservatory or orangery? Whilst conservatories are still the most popular installation for homes across the UK, orangeries are on the rise and there are definite benefits to both. 
Naturally, enhancing your home with either a conservatory or an orangery will always be of benefit to your family, thanks to the additional space that they provide for socialising, hosting or just relaxing! These spaces can make an ideal place for a dining table or a living room in which to retreat. 
A conservatory is a traditional and most common choice for home extensions in the UK. With a conservatory, the glazing covers a greater proportion of the surface area, including the roof, whereas an orangery features a higher percentage of brickwork such as a dwarf wall and typically a solid roof with elevated roof lanterns. This is the primary difference between conservatories and orangeries, so conservatories are often considered to be lighter and brighter due to the additional glass allowing natural light to permeate the space. 
Read on to learn more with our deep dive into conservatories and orangeries, so that you can choose the best option for your home!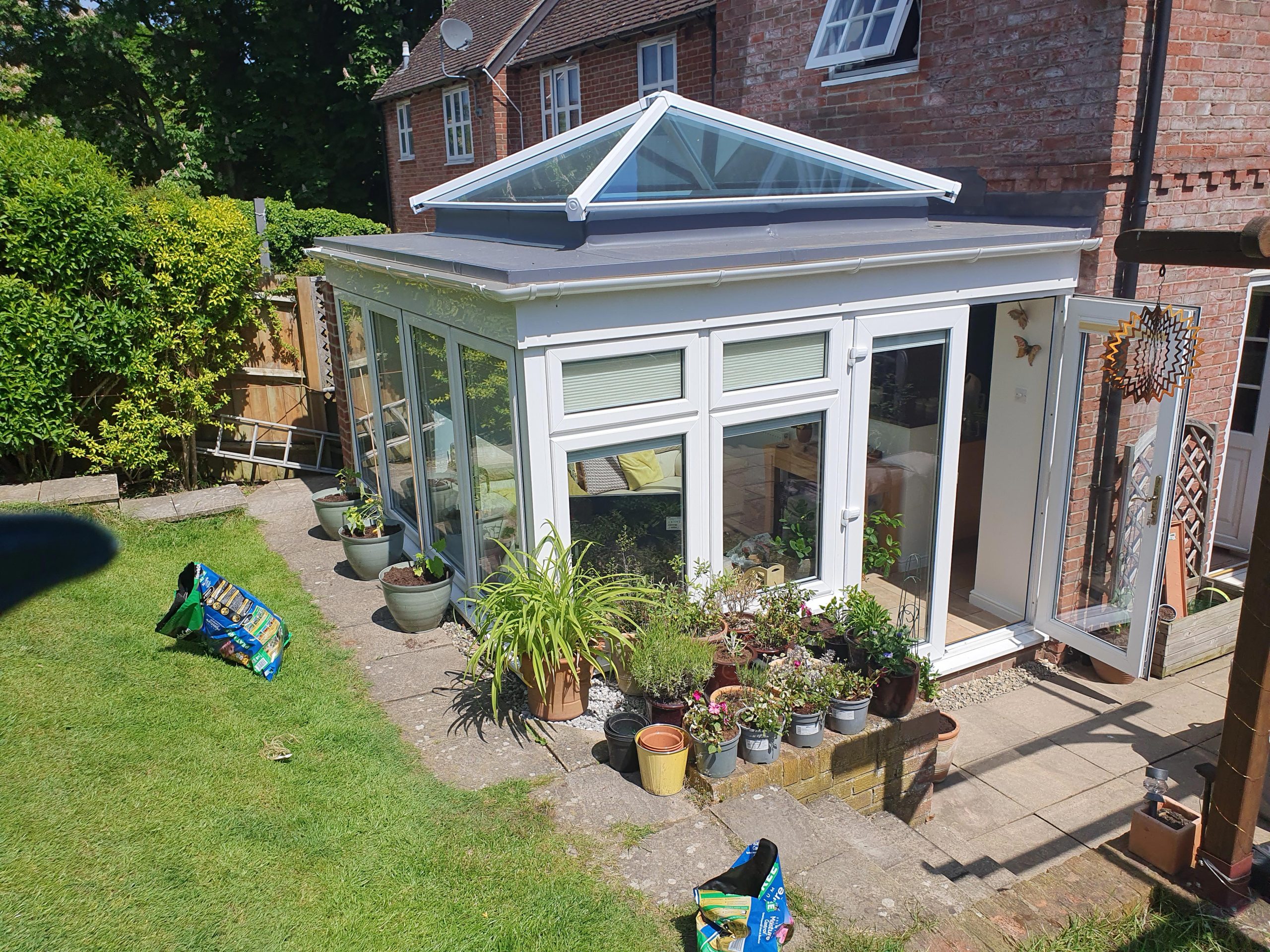 Conservatories
As we know, conservatories are crafted of more than 50% glass, which creates a beautifully bright space in the home. Older conservatories were susceptible to unnecessary heat loss due to the poor quality single glazing that was used in the 70s, 80s and 90s in particular, when many homeowners were opting for conservatories. This meant that they earned a less than favourable reputation for always being either too hot or too cold and their owners got very limited use of them. 
This is no longer the case thanks to the advancements in double glazing, insulation techniques, ventilation and solar control glazing! At Oakley Green Conservatories, we use premium double glazing and thermally broken profiles to create conservatories that retain warmth and are cosy and comfortable all year round. With solar control glazing and clever roof vents to promote air circulation in the summer, we can also limit the 'greenhouse effect' that makes older conservatories stuffy and uncomfortable on those warmer days. 
Advantages of Conservatories:
There are plenty of advantages to choosing a conservatory to expand your home: 
Often quicker to install than a traditional extension – modular bases and sections can mean more efficient and less disruptive installation times. 

Cost-effective – Conservatories are typically cheaper than orangeries, so they can be less of a financial burden to install whilst still giving all the benefits of the additional space. 

Permitted Development – Depending on the configuration of your conservatory, you may not even require planning permission to expand your home! Often, a conservatory will qualify as a 'Permitted Development', so you can avoid the red tape and hassle of getting planning permission from your local authority. Do always confirm that this is the case for your specific project. 

Can add value – A conservatory can add up to 5% value to your home if you were to sell or rent the property in the future! Increase the market value and appeal of your property when you choose to install a conservatory. 
Orangeries
An orangery is a home extension that first grew in popularity amongst the aristocracy in the 17th century. Originally designed – as the name suggests – to grow oranges and citrus fruits, orangeries are now considered a stylised and opulent addition to the home. Similar to a conservatory, an orangery is great for flooding the home with natural light thanks to the roof lanterns incorporated into the otherwise solid roof. The bricked base and walls also give the space greater insulation than a conservatory, as well as an additional sense of privacy. 
Despite orangeries now being much more affordable than they were when they first came into popularity, they still somehow conjure up mental images of luxury and elegance in stately homes! Contemporary orangeries combine highly stylised design and effective functionality to create a truly sumptuous extension for your home. Contact our team today to learn more about our orangeries. 
Advantages of Orangeries
Versatile space – With bricked walls, an orangery can be used as anything from a living room or hosting space to an additional bedroom. Your orangery can be as private or open as you would like to give you a multitude of options for your space. 

Orangeries can add value to your home if you choose to sell or let the property in the future – even more so than a traditional conservatory! Enhance the marketability and financial value of your home with a beautiful orangery from Oakley Green. 

Thermally efficient – As your orangery is more bricked than a conservatory, they are often more thermally efficient, as there is a smaller proportion of glass through which warmth can escape. This can save you money in the long run on energy bills and reduce the carbon footprint of your home. 
Conservatory vs Orangery – Installation Prices in Thatcham
Whether you expand your home with a conservatory or an orangery, Oakley Green Conservatories are on hand to make your home improvement dreams a reality with bespoke designs at fantastic prices. Based in Thatcham, we are ready and waiting for you to come and visit our showroom to see our products for yourself! Contact our team online today or call us at 01635 877 959 to learn more about our services and receive up to £250 off your order when you get a free, no-obligation quote online today! 
10 year insurance backed guarantee
Fully employed, highly skilled installers
Showroom for you to visit
Tailored solutions to suit your tastes
Small, dedicated team
Book an appointment to see our
showroom
Other New Posts
View some of our other news posts from Oakley Conservtories.
5 Key Questions to Ask When Buying a Conservatory
Can You Make Your Conservatory More Energy Efficient?
Can you put a new roof on an old conservatory?
Glass conservatory roof vs solid conservatory roof? Which is best?
Can you extend your kitchen with a conservatory?
You may also be interested in...
Conservatories
Our range of conservatories can be designed in a variety of styles. From traditional conservatory designs to modern conservatories, we'll create a unique space for your new conservatory.
Doors
With a full design and build service and a huge range of high-performance products, Oakley is the only name you need to bear in mind when thinking of enhancing your home with new doors.
Double Glazed Windows
Our complete design and build service makes it easy for you to enhance your home with new windows.
Extension and Conversions
At Oakley Green, we have been designing and building stunning bespoke home improvements for over 20 years! We've made so many dream homes a reality.
Orangeries
Enhance any home with an elegant, classic look and provide a versatile new living space with an orangery.