7 May, 2023
Inventive ways to use your conservatory in 2023
Here at Oakley Green, we are dedicated to providing our customers with the best possible products, including our made-to-measure conservatories and top-notch conservatory roof replacements. We understand that each of our customers has unique needs and plans for their conservatory space, which is why we offer tailored solutions to meet those requirements.
With our many years of experience, we've seen homeowners use their conservatories in a wide array of ways. To help inspire you to make the most of your conservatory in 2023, in this blog we've compiled a list of inventive ways you can use this extra space. So why not get creative and transform your home with a beautiful new conservatory from Oakley Green?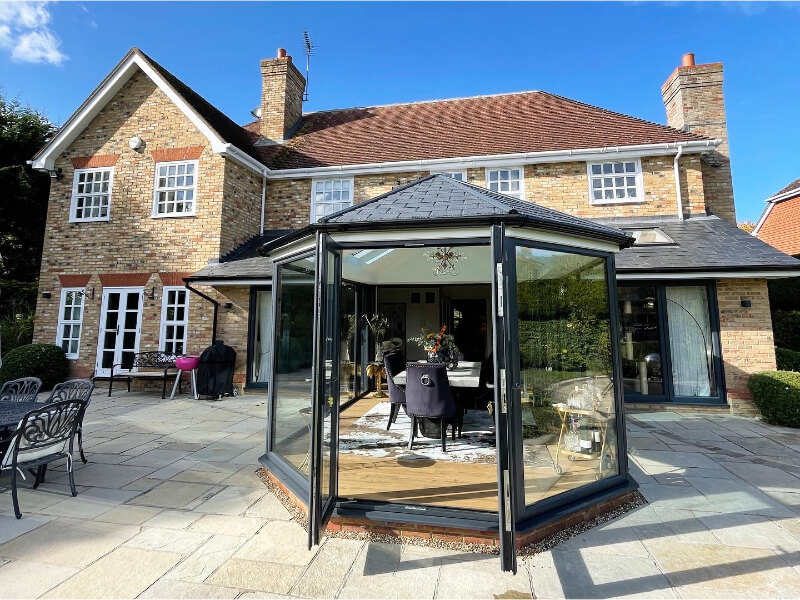 What can I turn my conservatory into?
There are several options for repurposing an unused conservatory, depending on your needs and preferences. Whether you're looking for a space to relax and unwind, somewhere to enjoy your hobbies, or looking to add extra practicality to your home, a well-thought-out conservatory could be the answer.
Home Office
The Covid-19 lockdowns have changed the way many of us work and a significant percentage of us still enjoy the convenience of working from home. In this instance, a home office is essential. Your conservatory could be the perfect space to create a tranquil work environment, away from the hustle and bustle of the main house. With ample natural light and beautiful views, a conservatory with a glass roof is an ideal spot to set up your home office. Simply add a desk, some comfortable cushions, and you're ready to take on the day's work.
Playroom
Have you ever looked around your living room and there are toys, toys and more toys as far as you can see? Then it's time to eliminate the stress of mess by utilising your conservatory space as a playroom! Not only will this provide your children with a dedicated play area, but it will also help to keep the rest of your home clean and tidy. Your children can play to their heart's content while enjoying the benefits of fresh air on warmer days by opening the doors to the outside, and with proper insulation, you won't need to keep cranking up the heating during colder months either. Utilising this space as a playroom is a great way for busy families to maximise their living space.
Dining Room
If you're looking to free up space in your kitchen, consider transforming your conservatory into a separate dining room. Relocate your dining table, add some blinds or light curtains for privacy and shade, and decorate with a rug and some greenery for a cosy ambience. This setup provides the perfect spot for dinner with family or entertaining friends.
Home Bar
Speaking of entertaining friends, you could consider using your conservatory as a home bar. During summer days you can open the doors and create a seamless flow from inside to outside. To enjoy your bar after sundown, think about installing pendant lights or wall lights to set the mood. Or why not add a TV and some pub games like darts or table football to create a mini sports bar at the back of your house? Enjoy a relaxing atmosphere in your home bar and make the most of your conservatory year-round.
Home Theatre
Looking to add a touch of creativity to your conservatory? Then make your conservatory a home theatre for the ultimate movie-watching experience. Create a cosy, comfortable space to unwind after a long day's work or for the children to enjoy. To reduce glare from the sunlight, add blinds, curtains, or shutters. This will also help to increase privacy in the evenings. A tiled roof conservatory design is an ideal option for a home theatre due to its thermal efficiency, sound insulation, privacy and less natural light than a glass roof (to help create that cosy space!)
Relaxing Reading Room
Imagine sinking into a comfy sofa or luxury armchair, paired with soft furnishings, warm blankets, and flickering candles – the perfect serene space to relax and curl up with your favourite book. Grab a morning cup of coffee or an evening glass of wine and get lost between the pages while enjoying your place of zen. Your conservatory extension would offer the ideal space for a reading room, where you can unwind in your own slice of heaven.
Music Room
If you or members of your household enjoy playing the piano, guitar, or other musical instruments, or maybe you've got a budding DJ in the home, then creating a music room will be the perfect way to utilise your conservatory. However, in order to keep your instruments protected you must ensure your conservatory is temperature regulated. If you have an older conservatory, consider getting a roof replacement to upgrade the room's thermal efficiency to keep your instruments safe.
Home Gym
Your conservatory would make a great place for a home gym. What's better than exercising with views of nature rolling in? The natural light that conservatories enjoy creates an energizing environment for your workouts. You can start your home gym with just a few small pieces of equipment like dumbbells and yoga mats, before investing in machinery with a higher price tag. For optimal ventilation during your workout, it could be beneficial to install bi-fold or French doors that can allow you to open them wide and allow fresh air to circulate.
Craft Room
If you enjoy painting and drawing in your spare time, or have children who love to get creative, one of the best ways to use your conservatory could be as a craft room. The natural light and inspiring outdoor views can help boost productivity and provide inspiration for your next masterpiece. Be sure to add plenty of shelving and storage units to keep your crafting tools organised, as well as comfortable seating for those longer creative sessions.
Indoor gardening or greenhouse
For avid gardeners, using your conservatory as an indoor garden is an excellent way to enjoy your hobby all year round. Many plants thrive in light, warm environments, just like a conservatory. However, it is crucial to do your research and select plants that are suitable for this atmosphere. With the right selection of plants, you can transform your conservatory into a beautiful indoor garden, bringing a touch of the outdoors in.
Different ways to use your conservatory with Oakley Green
Overall, there are plenty of inventive ways to use your conservatory, and with Oakley Green we can help you to achieve that perfect place for you and your family. For further enquiries, email us today!
10 year insurance backed guarantee
Fully employed, highly skilled installers
Showroom for you to visit
Tailored solutions to suit your tastes
Small, dedicated team
Book an appointment to see our
showroom
Other New Posts
View some of our other news posts from Oakley Conservtories.
5 Key Questions to Ask When Buying a Conservatory
Can You Make Your Conservatory More Energy Efficient?
Can you put a new roof on an old conservatory?
Glass conservatory roof vs solid conservatory roof? Which is best?
Can you extend your kitchen with a conservatory?
You may also be interested in...
Conservatories
Our range of conservatories can be designed in a variety of styles. From traditional conservatory designs to modern conservatories, we'll create a unique space for your new conservatory.
Doors
With a full design and build service and a huge range of high-performance products, Oakley is the only name you need to bear in mind when thinking of enhancing your home with new doors.
Double Glazed Windows
Our complete design and build service makes it easy for you to enhance your home with new windows.
Extension and Conversions
At Oakley Green, we have been designing and building stunning bespoke home improvements for over 20 years! We've made so many dream homes a reality.
Orangeries
Enhance any home with an elegant, classic look and provide a versatile new living space with an orangery.