19 April, 2023
Kitchen Conservatories: A Complete Guide to Building and Designing Your Dream Kitchen Extension
If you are looking to expand your existing kitchen space and add more natural light to your home, a kitchen conservatory extension may be a perfect option for you. This type of extension combines the functionality of a kitchen with the beauty and serenity of a conservatory, creating an inviting and relaxing space that can be enjoyed all year-round by homeowners.
Building a conservatory kitchen extension comes with its own set of challenges and considerations, but with proper planning and execution, it can add value and functionality to your home. Here is a complete guide to help you build and design your dream kitchen conservatory extension.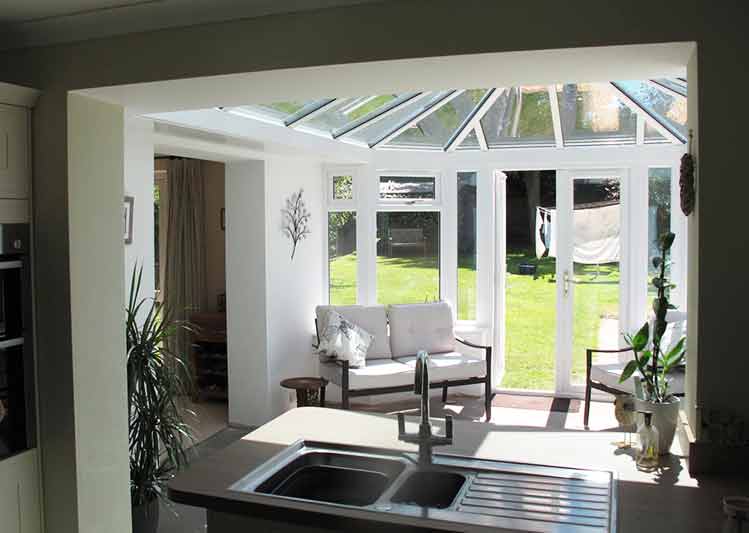 Planning and Design
Before you start any construction, it's essential to have a clear plan and design in place. Consider your budget, available space, and your desired outcome. It's a good idea to think about the type of materials you want to use, the layout of your kitchen, roofing, heating, flooring and how much natural light you want to let in.
Building Regulations
It's important to make sure that your kitchen conservatory extension complies with local building regulations. Conservatories fall under permitted development rights so you may need to obtain planning permission, especially if you live in a conservation area or listed building.
Materials
The materials you use for your kitchen conservatory extension will play a crucial role in its durability and aesthetics. Consider using high-quality, energy-efficient materials that can withstand the changing weather conditions, such as uPVC, aluminium, timber and double-glazed windows. You may also want to consider using glass roofs to allow more natural light into your kitchen.
Ventilation
An important consideration for a kitchen conservatory extension is ventilation. The kitchen area generates heat, steam, and cooking odours that can quickly build up in an enclosed space. Proper ventilation will help to eliminate these problems and create a comfortable living space.
Functionality
When designing your kitchen conservatory extension, consider its functionality. Think about the layout of your kitchen, the storage space you need, and the appliances you want to include. Consider whether you want an open plan kitchen, a kitchen island, a breakfast bar, and how you want to incorporate these features into your design.
By following our guide, you can build and design your dream, modern kitchen conservatory extension that suits your style and requirements.
How Oakley Green can transform your home
At Oakley Green, we offer a wide range of conservatory styles, from traditional designs to modern conservatories. Whether you have a newbuild or a period property, we will create a unique space for you.
Depending on your style, you can choose from a combination conservatory which is a modern glass extension or if you are after a more traditional look then our styles include; Edwardian, Victorian, Regency or Gull wing. Each style can be tailored to compliment your home and are available in different materials such as uPVC, aluminium and timber.
Victorian
You may be thinking what is a Victorian style conservatory? This is one of our most popular styles that adds an elegant touch to any property. Combined with energy efficient glazing as standard, this style of conservatory can maintain a constant temperature all year round, making your conservatory a comfortable temperature and helping to improve your homes thermal efficiency.
Regency
If it's more floor space you need then our Regency conservatories have you covered. Thanks to its rectangular shape, you won't need to worry about feeling cramped. This style of conservatory floods any space with natural light, making your home feel light and airy!
Gull wing
At Oakley, thanks to our years of conservatory experience we are one of only a few installers who offer our customers gull wing conservatories. This style is a great way to maximise floor space, and it will certainly create a stylishly unique feel to your new space.
Edwardian
This style of conservatory is suited to properties of all size and age. You can incorporate as many glass panels, windows and doors as you like to compliment the rest of your home. An Edwardian conservatory features a steeply pitched roof and a selection of ornate detailing.
Combination conservatories
With so much choice, it can be an overwhelming task to choose what conservatory style is right for your home. Why not combine the features of each and let our expert team create a bespoke combination conservatory your home?
How can you benefit from an Oakley home improvement?
Style – Our conservatories include slim sightlines and maximised glass space
Energy efficiency – Helping to keep the warm air in during summer months, and the cold air out in winter months
Security – Strong frames, quality glazing and efficient locking mechanisms
Durability – The frames and profiles are robust, ensuring a long lifespan
Convenience – We offer a full design and build service which allows your new conservatory to compliment the rest of your home
Not only do we offer conservatories but we also offer high quality orangeries, an extensive range of doors such as bifold doors and patio doors, and different styles of windows.
10 year insurance backed guarantee
Fully employed, highly skilled installers
Showroom for you to visit
Tailored solutions to suit your tastes
Small, dedicated team
Book an appointment to see our
showroom
Other New Posts
View some of our other news posts from Oakley Conservtories.
5 Key Questions to Ask When Buying a Conservatory
Can You Make Your Conservatory More Energy Efficient?
Can you put a new roof on an old conservatory?
Glass conservatory roof vs solid conservatory roof? Which is best?
Can you extend your kitchen with a conservatory?
You may also be interested in...
Conservatories
Our range of conservatories can be designed in a variety of styles. From traditional conservatory designs to modern conservatories, we'll create a unique space for your new conservatory.
Doors
With a full design and build service and a huge range of high-performance products, Oakley is the only name you need to bear in mind when thinking of enhancing your home with new doors.
Double Glazed Windows
Our complete design and build service makes it easy for you to enhance your home with new windows.
Extension and Conversions
At Oakley Green, we have been designing and building stunning bespoke home improvements for over 20 years! We've made so many dream homes a reality.
Orangeries
Enhance any home with an elegant, classic look and provide a versatile new living space with an orangery.